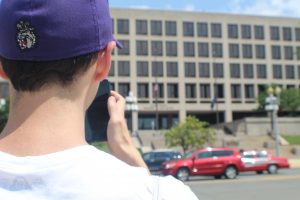 I made my way down Pennsylvania Avenue, finding Pokestops at the Department of Labor and the Canadian Embassy.
When I came upon the Grand Army of the Republic I encountered someone already battling the Gym. Stephanie Stassie, who works at the Newseum, took over the Gym on her lunch break. She has seen other people playing the game but hadn't had the opportunity to talk to anyone until I showed up.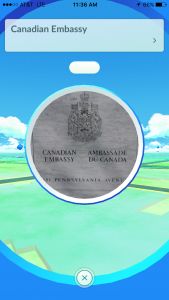 "It's kind of a nostalgia thing," Stassie said. "I grew up with the 150 original Pokémon."
Pokémon Go gives Stassie the opportunity to go outside more and explore places in the D.C. area that she'd never been to. This weekend, she and her roommate went to a park in suburban Arlington, Va., for the first time just to play the game.
As I talked to people battling a Gym across from the U.S. Navy Memorial, Jeff Wetzel, who was leading a bike tour at the time, expressed his concern.
"Should a memorial be a Gym?" Wetzel said. "That's an interesting question."
Wetzel often plays while biking around D.C. and it surprised him that the Titanic Memorial was a Gym, where people can convene for fun instead of reflecting on the purpose of the landmark.
Read More About